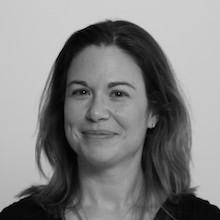 On April 4 and 5, HEQCO will hold its annual conference. The theme this year is "Access in Practice: Putting great ideas to work" and will feature 88 speakers across 24 different sessions presenting their ideas on how best to increase access to and retention in higher education.
As we approach the conference, we will be featuring conversations with some of the people who will be participating as panelists or facilitators to discuss the work they and their organizations are doing in the field of postsecondary access.
Rebecca Rufo-Tepper is co-executive director of Institute of Play, an educational non-profit that champions a unique learning model rooted in the principle of games and game design. She will be facilitating the "All Fun and Games: Interactive Tools that Measure 21st Century Skills" workshop.
We spoke to Rebecca to find out more about her work at the Institute of Play, and how game-based learning can help promote educational access for underrepresented groups.
Q: Can you describe the Institute of Play and what it does?
RRT: The Institute of Play was founded in 2007. It's an education-focused, non-profit design studio that focuses on creating experiences that make learning irresistible. Instead of simply making students learn, our goal is to create a paradigm shift where teachers nurture students' skills and innate creativity which, in turn, inspires them to learn. Our programs and partnerships have helped us to develop a diverse learning community of educators who feel empowered to collaborate, problem solve and innovate.
Numerous research studies have shown that play is an essential part of developing skills like perseverance, problem-solving, empathy, emotional control and collaboration, but the students who could benefit the most from play in school are not getting the opportunity to pursue it. Institute of Play wants to bring the power of play and design into every classroom.
Our four main service areas focus on school development and transformation; teacher education and professional development; game and curriculum design; and training and corporate workshops. We also offer free year-long fellowships for educators as well as online courses and school-based programs.
Q: What is game-based/play-based learning and what are the benefits of learning experiences rooted in the principles of game design?
RRT: Games provide a motivating and engaging context for students to grapple with complex problems and take on real-world roles. Participating in and designing games can help students build crucial skills such as systems thinking, creative problem-solving, collaboration, empathy and innovation. Our programs use both digital and non-digital games as well as a game-like curriculum that uses gaming principles to create hands-on, learning-by-doing experiences.
A game-like curriculum doesn't necessarily have to include discrete games; it can simply be modeled on the principles of games. That means it's immersive, participatory and that it allows for social engagement and provides a challenge-based context for students to work within. We believe that learning is more meaningful when it is driven by a need to know. In order to create this need, students should be given purposeful and relevant opportunities to master a skill or seek knowledge.
A game-based learning environment can allow students to step into and take on identities such as cartographer, archeologist, engineer, international relations expert, mathematician or game designer rather than simply learning about these fields as they would in a traditional learning environment.
Q: What kind of impact could this type of learning have on promoting access for underrepresented groups?
RRT: Our programs for educators and school leaders have been designed to meet the needs of the many students who are not well-served by more traditional school models. We strive to work with educators and schools that serve a diverse population of students. Our programs respond to growing evidence that games offer powerful models for reconsidering how young people learn, and that access for all students to these opportunities are critical. We feel that a true aim of education is to create motivated, resourceful, lifelong learners and we want to support students, their parents and their communities in order to make this happen.

Register Now for Access in Practice