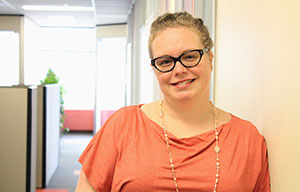 HEQCO CEO David Trick has mused in recent weeks (see here and here) about how Ontario's postsecondary education sector can look to lessons from the past to help us deal with today's exceptional circumstances. This idea of finding precedents for the unprecedented is one that we will return to, but this week I'd like to take a moment to recognize the successes of our system that are visible right now, in the midst of this crisis.
The COVID-19 pandemic is challenging and scary, but there is a lot that is going right as we respond to this crisis. As a society, we are benefiting from the research and knowledge nurtured within our universities and colleges. If ever there has been a situation that illustrates the value of our collective investment in postsecondary education research and teaching in this province, surely this is it.
Everywhere, we see well-prepared professionals doing what they were trained to do with skill and flexibility. First and foremost are the heroes of this pandemic – the nurses, doctors, epidemiologists, paramedics, pharmacists and other health care professionals – all of whom are products of the postsecondary education system, in Ontario or elsewhere. They are not alone. How about the teacher learning new technology on the fly to engage with her students in creative ways during this time of sheltering in place? Or the logistics experts and truck drivers who are keeping our supply chain systems working (and toilet paper on the shelves)? How about the statisticians and math modellers working to help us understand the impact of social distancing and other interventions, to say nothing of the researchers making strides to better understand this virus? Then there are the professionals in government who are designing and delivering urgently-needed financial supports, and the public policy experts, legal professionals, mental health experts and economists who are working with government and the business sector to plan for a "post-corona" economy. These people and many others are demonstrating the importance and value of a higher education system that is broadly accessible and of high quality.
We are also reminded that some of the most essential jobs in our society are filled by some of the most vulnerable workers. That includes personal support workers, early childhood educators, service workers and all those who keep our communities working even while the economy is on pause. Hopefully, this pandemic will prompt a rethinking of the labour market and a recognition that some jobs – and some workers – have been systemically undervalued within the economy.
We cannot minimize the impact of COVID-19: many in our communities are suffering, and we have months of tough slogging ahead. Nevertheless, part of HEQCO's mandate is to evaluate the performance of Ontario's higher education system, and this pandemic has highlighted that there is much to be proud of. Postsecondary institutions are places in which ingenuity, creativity, diligence and the pursuit of knowledge are cornerstones; these values and practices will help us weather the pandemic and emerge from it safer, stronger and wiser.
Amy Kaufman is Director of Policy, Research and System Improvement at the Higher Education Quality Council of Ontario.