Why should we care about the sustainability of Ontario's postsecondary education sector? Because students merit, for the time and money they invest in their education, a high quality, meaningful experience that prepares them for their future personal and professional lives. Because the broader public, for the investment it makes, deserves a higher-education system that is equipped to do all that the province and society require of it.
These benefits, both public and private, can be realized only if the education offered by Ontario's public colleges and universities is of high quality. And institutions can deliver quality outcomes only when they are on sustainable footing. To remain sustainable, they must be able to deliver academic quality with the revenues available to them.
Our work on this issue has revealed that sustainability is about more than just financial considerations. It is about the capacity of institutions to sustain and improve the quality of the education they provide. This is the raison d'être of the system.
It's time to revise the sustainability narrative. Quality should be the unchanging variable in the sustainability equation.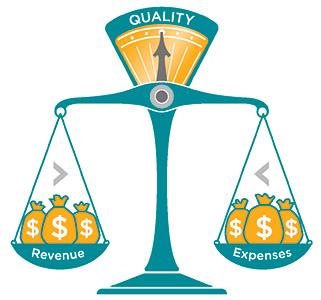 Read our capstone report on the issue of sustainability of the postsecondary system​​
Visit our sustainability page to read more of HEQCO's research on this topic. Sustaining the quality of higher education goes beyond simply balancing the books As Ontario universities and colleges struggle to deal with rising expenses and stagnant revenues, academic quality risks being compromised, argues a new report by the Higher Education Quality Council of […]
​HEQCO's Sustainability Series
As labour costs grow faster than revenues, Ontario universities face sustainability challenges With no significant growth in student enrolment projected in coming years, Ontario universities face a future where labour costs outpace revenues. This may create a challenge for sustaining academic quality, according to a new report from the Higher Education Quality Council of Ontario […]
Demographic shifts will pose enrollment challenges for Ontario college sector Demographic shifts over the next two decades pose enrollment challenges for Ontario's public postsecondary sector , but the province's colleges are particularly susceptible , according to a new report from the Higher Education Quality Council of Ontario (HEQCO).In College Sustainability: Signal Data , HEQCO notes that the […]
New report examines sustainability challenges facing Ontario universities Projected demographics across Ontario say the province will experience a drop in the number of 18 to 20 year olds over the next two decades. The shift poses a serious challenge for Ontario universities that have long depended on increased enrolment as a major revenue source. A […]
Postsecondary sustainability demands cooperation , collaboration and alignment Ensuring that postsecondary institutions are sustainable and capable of providing a high quality academic experience is a fundamental responsibility of government and of institutional leaders , says a new report from the Higher Education Quality Council of Ontario (HEQCO). Understanding the Sustainability of the Ontario Postsecondary System and […]