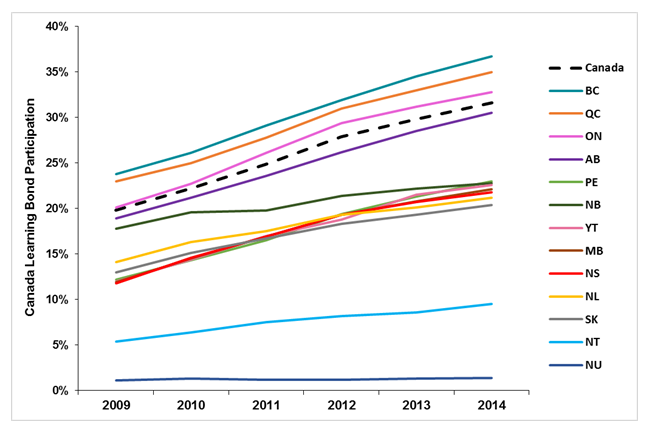 In 2005, the federal government introduced the Canada Learning Bond (CLB) to help lower-income families get a head start on saving money for their child's postsecondary education. The CLB includes an initial payment of $500, followed by up to 15 annual payments of $100 (maximum payment of $2,000). Eligible families must open a Registered Education Savings Plan for their child to receive the CLB, but no personal contribution is required. Over the past six years, participation in the CLB has increased in most provinces. However, even in British Columbia where uptake is the highest, only 37% of eligible families are taking advantage of this savings opportunity. In Ontario, 33% of eligible families have accessed the CLB, which is the third highest uptake in Canada. Increased awareness and an accurate understanding of the CLB among financial institutions, community-based organizations and the broader population are essential factors in improving enrolment for this federal grant.
Note: The CLB participation rate reflects the number of children who have ever received a CLB, expressed as a percentage of the total number of children eligible for the bond, as of a given year.
Source: Adapted from the Canada Education Savings Program's Annual Statistical Review (2014).