We've been seeing the word "micro" a lot lately — microcourses, microdegrees, micromodules. It's an interesting contrast to the introduction of massive open online courses, or MOOCs, from the beginning of the last decade. But much like the MOOC discourse, it feels as though there's almost as much uncertainty as there is hype over microcredentials. What distinguishes these credentials from traditional degrees? How do students know if microcredentials are right for them? And do employers see any inherent value in them?
First, let's talk about the hype. We're excited by what is shaping up to be a surge in short, flexible and industry-aligned programs offered by many postsecondary institutions. These programs offer the potential to both help address skills gaps and provide an entry point for adults looking to upskill or reskill. And digital forms of microcredentials could empower students to more seamlessly market their skills and education to potential employers. We saw evidence of all this potential at eCampusOntario's Micro-certification Forum held on February 21.
More than 200 attendees joined eCampus, in person and virtually, to share ideas and examples of microlearning in practice. We left feeling equally inspired and overwhelmed by the variety of credentials being offered across Ontario; feeling a need for clarity about what these new credentials represent and what acquiring them entails; and acknowledging that issues of recognition, quality assurance and standardization will likely affect the value of these credentials for students, institutions and employers.
So, to help establish a shared understanding of these credentials, we present (below) our current take on the micro and digital credential landscape in Ontario. We include both digital and microcredentials because the two are closely related and yet distinct in important ways, and because we've heard these terms and concepts conflated and used interchangeably. We drew on the work of other organizations currently championing new credentials like eCampus, UNESCO, the Lumina Foundation, the European Commission and many more. We were particularly inspired by the visualization that Algonquin College has produced.
Like Lumina, we're using "credential" as an umbrella term that includes "certifications." The microcredential umbrella includes both digital and non-digital credentials, as well as credentials earned through participation or assessment. We suggest microcertifications be thought of as a subset of microcredentials, issued only when competencies are verified against a set of criteria (in other words, assessed). Similarly, we're using "digital credential" as an umbrella term that includes digital badges (e.g., a teamwork badge) as well as digital versions of paper credentials (e.g., a bachelor's degree). We've included a handful of examples to help illustrate what these distinctions look like in practice in Ontario.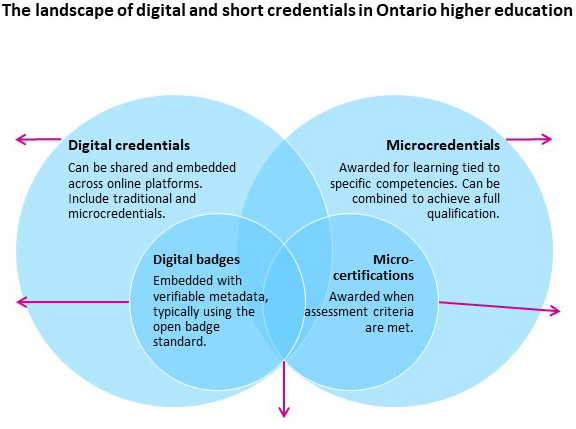 Mohawk College and Seneca College offer IBM official badges, assessed against clear criteria.
And now it's your turn. Help us refine and revise our understanding. We're sure we haven't got it right on the first try. We invite you to share your comments below or email your feedback to us (Jackie and Jess). What would you add or change? How would you define microcredentials?
Over the next several months, we plan to engage with stakeholders about the perceived and potential value of these credentials. We hope to produce a report with an updated version of the graphic and the results of our research that advances our collective knowledge of these emerging credentials in a way that serves students, institutions and employers.
Thanks for reading. More to come.
Jackie Pichette is director of Research, Policy and Partnerships at HEQCO; Jessica Rizk is a researcher.