In September 2020, HEQCO released a report aimed at improving the accessibility of remote learning in higher education. At that point, we were six months into the COVID-19 pandemic in North America and dealing with the onset of a new academic year. Among the lessons we learned from postsecondary students, faculty and staff, as well as community advocates, was how beneficial it can be to incorporate and embrace universal design for learning, otherwise known as UDL.
UDL is a framework for teaching, assessment and curriculum development that attempts to cater to all learning styles. By adhering to its principles, colleges and universities can better accommodate diverse learning needs, and in so doing, provide more equitable opportunities for students to succeed. Discussing issues such as UDL fits well into HEQCO's mandate of ensuring that Ontario's colleges and universities are accessible, offer high-quality programs and are accountable to Ontarians.
Since the release of our report, stakeholders have reached out to share their support and enthusiasm for our report's recommendations and excitement about accessibility being brought to the forefront of the conversation around remote learning. Staff at George Brown College — who have long championed UDL — reached out to us to share how they are working towards our recommendation to "incorporate UDL principles in all courses." This is exactly the kind of reaction we had hoped to see come from our report — empowering leaders and policy-makers to create positive changes in the sector.
George Brown College has a Designing for Inclusion Task Force which has been endorsed by senior management. The task force, which is led by UDL Integration Lead, Ravinder Brar, is working toward multiple goals including UDL training and awareness for faculty and administrators. Brar is working across departments with several groups at George Brown including the Teaching and Learning Exchange, Academic Excellence, the Centre for Preparatory Liberal Studies, as well as counsellors, accessibility consultants, educational technologists, librarians, and other professionals to create a cross-departmental UDL community at the college. UDL is also built into academic quality processes, including new program development and program review, as well as faculty programs and workshops.
A unique UDL certificate program, piloted at George Brown College in fall 2020 and rolled out the following winter, supports the enhancement of institution-wide expertise in proactively designing equitable learning spaces that foster inclusivity and diversity. The program is aimed at supporting instructors to rethink online course design by centering the principles of UDL to anticipate barriers and foster expert learners who are purposeful and motivated, resourceful and knowledgeable, and strategic and goal directed. The immersive design of the program includes opportunities for peer exchange/community of practice in which librarians, e-Learning staff, accessibility consultants, instructional designers and professors learn together about tools and resources they could use in their educational practices. Examples include e-learning workshops on UDL teaching and innovation that are aimed at creating more technology-enhanced and accessible learning experiences for students, as well as sharing exemplars of integrating UDL with decolonizing teaching practices. George Brown College plans to make this program available province-wide in 2022.
As Brar says, "in a large institution, working collaboratively across departments to address barriers to access and inclusion is critical. Our virtual learning spaces have afforded us new opportunities to raise the bar on knowledge and expertise, advancing our skills in designing new ways of teaching and learning. The goal is to support the development of expert learners', enabling all George Brown students to reach their full potential."
In the pre-assessment of this pilot program, George Brown College asked faculty how they would assess their own expertise in a variety of teaching methods that enhance (or increase) access to learning for students. As the chart below demonstrates, more than half felt that they were still developing these skills.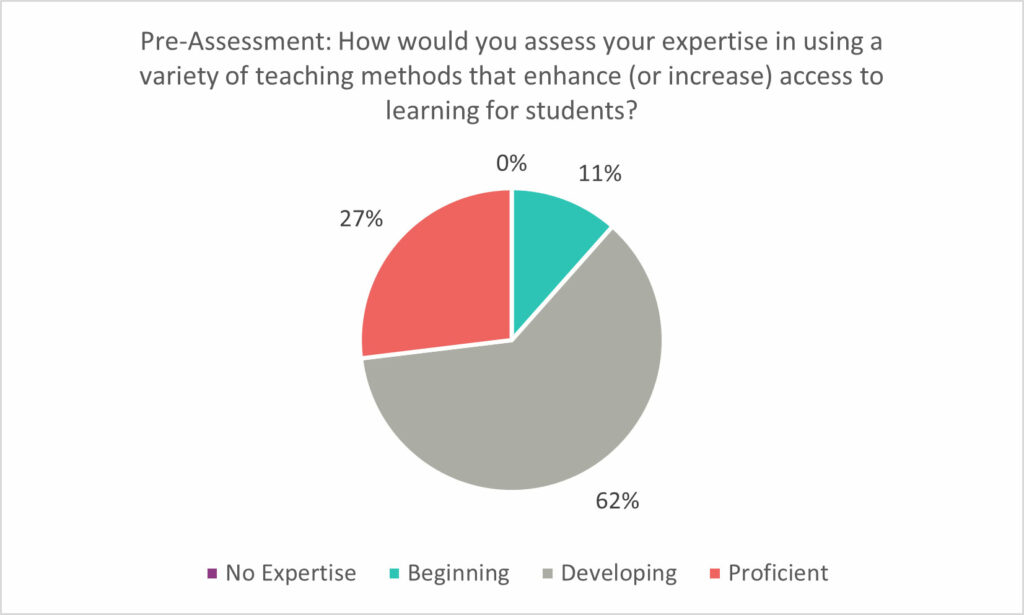 Teaching faculty who participated in this pilot program have described what they learned as extremely valuable and have suggested that it has deepened their understanding of UDL principles and provided them with a new perspective to enhance their teaching practices.
Many participants also described the importance of being part of an ongoing, informal network of colleagues where they can continue to share and reflect on UDL best practices. While not all institutions have the means to offer similar pilot programs, promoting a UDL community of practice is one way to continue the charge to support student learning.
We experienced such a community at the recent UDLHE Digicon 2021 — an international conference aimed at connecting individuals who are invested in UDL in Higher Education contexts to network and collaborate with others around the globe. The event also allows UDL advocates to share their research and promising practices. HEQCO shared findings from our accessibility project, and heard from researchers, practitioners and educators about their UDL initiatives. We hope that stakeholders in the sector continue to remain connected and share their ongoing work with UDL at similar events such as the upcoming CAST conference.
As campuses slowly begin to open up again, HEQCO remains committed to facilitating a community of practice around UDL. If you are interested in being a part of that, we would love to hear from you. Send us an email or connect with us through social media.
Jessica Rizk is a researcher and Jennifer Han is a research intern at the Higher Education Quality Council of Ontario.