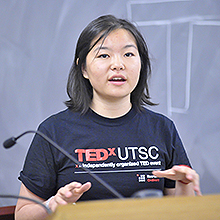 Young people aged 15 to 24 experience the highest incidence of mental illnesses, according to Statistics Canada. Specific to higher education, the National College Health Survey—completed in 2013 by more than 34,000 Canadian postsecondary students—found an increase in almost all types of mental health concerns including depression, anxiety, attentional related concerns, addiction related concerns and escalating stress levels to debilitating degrees. The Mental Health Commission of Canada says that mental health problems cost businesses $6 billion in 2011.
My lived experiences reflects the national statistics.
For a year and a half during my undergraduate studies at the University of Toronto, Scarborough (UTSC), I was seeing a counsellor to help me cope with anxiety and depressive-related concerns. Though I was never clinically diagnosed, I was not as productive as I used to be and couldn't maintain my GPA levels for very long.
My grades took another dip closer to the end of my second year as I stopped seeing the counsellor and entered into my first full-time job as part of my co-op program. Like my course work, my assignments were for the most part self-directed. I was surprised to learn, however, that unlike my time taking classes, and despite paying extra co-op fees on top of paying among the country's highest tuition fees as an Ontario postsecondary student, I did not have access to the critical support services essential to my overall well-being.
Unless I was enrolled in classes, which is discouraged while on a full-time co-op job, I no longer had access to the counsellor that I was regularly seeing or use of the athletics facility. Unless I was a full-time and long-term employee, I did not have access to health benefits. Other options did not meet my needs. Being unable to access critical student counselling services, I made do with what was available to me. After my co-op term, I learned of similar cases of students caught between the cracks.
Not only is tackling mental health issues vital to addressing the health outcomes of students who need services the most, it is also critical to show students, who will one day be in positions of power, the transcending importance of addressing mental health issues.
This is where MindsMatterMagazine.com comes in. This new online hub of information at UTSC aims to humanize perceptions towards mental health and explore proactive approaches to helping students, friends and family of students cope in an increasingly fast-paced, stressful world.
Our team of 26 UTSC students and recent graduates tackles three priorities that we feel are not prioritized in the current reaction to addressing mental health issues across Canada: Intersectionality – acknowledging and shedding light on the interrelated experiences of those with marginalized backgrounds that often compound the struggle to lead dignified and healthy lives; actionable awareness – engaging our readers to take action in learning by doing; and recovery through community belonging – healing in a supportive and creative environment.
Initiatives include working with the UTSC registrar's office and AccessAbility Services in designing a needs- and merit-based mental health scholarship program; garnering worldwide submissions through a creative writing contest in partnership with UTSC's literary magazine; working in partnership to train faculty on student mental health concerns and coordinating decompression spaces for students with the university's Health & Wellness Centre.
Addressing mental health issues is a win-win for all. Tackling mental health issues in all contexts in school at both the undergraduate and post-graduate levels, and in the workplace, addresses the problems for what they are – societal issues as well as issues of the individual.
Karen Young is a 5th year psychology and mental health studies student at UTSC and a 2015 3M National Student Fellow. She is the founder of the Minds Matter initiative.
Our opinion is that the opinions expressed by our guest bloggers are their opinions, and not necessarily those of HEQCO.