Featured

We are very pleased to announce the return of the HEQCO conference. This one-day, in-person event will be taking place on November 3, 2023 at the Delta Hotel Toronto. HEQCO's 9th conference, Access Reboot: New Directions for Higher Education will be an opportunity to share best practices, develop ideas and challenge traditional approaches to equity, […]

By bringing together partners from across the higher education sector, HEQCO's consortia projects explore complex issues such as international education, access for underrepresented groups and skills assessment from a range of perspectives. Through more than 20 individual research projects, HEQCO makes connections between the experiences of students and postsecondary institutions and government policy. Past consortia […]

How many Ontario students applied to the province's colleges and universities during the last decade? How many enrolled? How many graduated? Find the answers to these and other good questions in Quick Stats, a compendium of data on Ontario's postsecondary system. Note: All visualizations begin in 2013 and go up to the most recent year […]
Latest
On June 26, 2008, leaders from Ontario's postsecondary education sector gathered in Toronto for a presentation by George. E. Lafond, formerly the Special Advisor to the President on Aboriginal Initiatives at the University of Saskatchewan.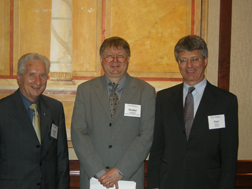 The Higher Education Quality Council of Ontario was pleased to present a lecture in Toronto by Walter Sudmant, director of planning and institutional research at the University of British Columbia.
What is known about student learning in higher education? Where are the apparent gaps in our understanding? What are the implications this knowledge may have on improving the quality of education at institutions? On April 25 and 26, 2008, researchers, faculty, educational developers and senior administrators from institutions around the world attempted to answer these questions at an […]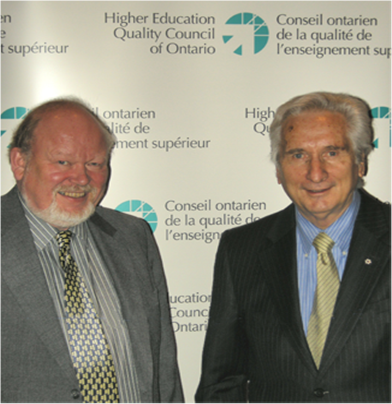 John Randall, now an international consultant in the fields of higher education and professional training, spoke in Toronto on March 25 at an event hosted by the Higher Education Quality Council of Ontario. During his lecture to more than 100 leaders from Ontario's higher education community, Mr. Randall imparted some of his extensive experience in developing and administrating systems of quality assurance for postsecondary education.
A key component of the Higher Education Quality Council of Ontario's mandate is to advise the Minister of Training, Colleges and Universities on the accountability of the postsecondary education sector, particularly on the format and content of Multi-Year Accountability Agreements (MYAAs) between the Ministry and institutions. Thus, the Council welcomed an opportunity to discuss this important challenge at a workshop organized in collaboration with the Council of Ontario Universities (COU) at Ryerson University on November 23, 2007.
With the addition of its newest research director and three research analysts, the Higher Education Quality Council of Ontario has significantly enhanced its research capacity…