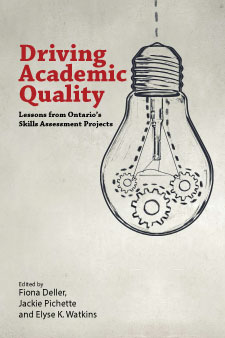 Nearly all students enter university or college with the ultimate go​​al of fin​ding meaningful employment. Meanwhile, employers are increasingly calling on institutions to teach transferable skills such as literacy, numeracy, critical thinking, problem solving and communication, the attributes they value most in prospective hires.
Since 2012, the Higher Education Quality Council of Ontario (HEQCO) has partnered with a group of researchers to develop ways of identifying and measuring the essential skills that students and employers seek. Driving Academic Quality: Lessons from Ontario's Skills Assessment Projects summarizes the lessons learned during the first phase of HEQCO's Learning Outcomes Assessment Consortium (LOAC) projects. The collection of essays is a valuable resource that aims to move the field of learning outcomes and skills measurement forward to better serve students as they make the transition to a rapidly evolving workforce.
As an organization committed to improving the quality of Ontario's postsecondary education system, HEQCO started LOAC to not only determine the learning outcomes students should graduate with, but also to develop ways of measuring and assessing those outcomes.
With contributions from researchers, administrators and educators, Driving Academic Quality offers insight into various aspects of learning outcomes assessment. Steve Joordens writes about his experiences at the University of Toronto using peer assessment to lessen the burden of skills assessment. Jill Scott, Brian Frank and Natalie Simper of Queen's University give 10 recommendations derived from their extensive work with institutional assessment. Nancy Miyagi and Valerie Scovill provide guidance on the best way to write and revise learning outcomes based on work they've done at George Brown College. And HEQCO's Fiona Deller, Sarah Brumwell and Lauren Hudak make the case for implementing large-scale skills assessment.
Driving Academic Quality: Lessons from Ontario's Skills Assessment Projects is edited by Fiona Deller, Jackie Pichette and Elyse K. Watkins.