Price
$300
Student: $50
Speaker: $150
General Public

Early Bird: $250 (Until July 31)
Regular: $300 (August 1 - October 15)
Late: $325 (As of October 16)
Cancellation Policy: Refunds are available until October 23 for the value of the ticket less a $50 administration fee.
The HEQCO conference is back! This one-day, in-person event will take place on November 3, 2023 at the Delta Hotel Toronto.
Attendees at HEQCO's 9th conference, Access Reboot: New Directions for Higher Education will share best practices, develop ideas and challenge traditional approaches to equity, diversity, inclusion, decolonization and accessibility in our postsecondary education system. Join colleagues from across the sector to discuss practical and creative strategies to broaden institutional reach and connect with students in new and different ways.
Promotional sponsor:

For more information, contact:
Dorinne Ah-Kam
conference@heqco.net
514-603-6192
Agenda
November 3, 2023
| Registration and Breakfast
Room: Soco Ballroom - Foyer (3rd floor)
| Welcome/Opening Remarks
Room: Soco Ballroom, 3rd floor
The conference keynote will be delivered by Dr. Chika Stacy Oriuwa who is an accomplished physician, spoken word poet and advocate for racialized and marginalized populations.
Room: Soco Ballroom, 3rd floor
| Morning Refreshment Break
Room: Soco Ballroom - Foyer (3rd floor)
| Session 1A — Meaningful Engagement: Improving Access Research Using EDID Principles
How can researchers focused on access ensure their approach to data collection is reflective of the specific populations they engage? This panel will discuss the importance of examining and addressing access issues using methods that embrace principles of equity, diversity, inclusion and decolonization (EDID). Attendees will learn what questions to ask to help them gather more meaningful information.
Room: Soco Ballroom (3rd floor)
| Session 1B — Supporting Pathways to PSE: Highlighting Postsecondary Outreach and Transition Programs for Students
Many roads lead to postsecondary education. This panel will highlight outreach and transition programs that support students at different points along their diverse journeys to college or university. Panelists will provide an overview of these programs and engage in a moderated discussion about successes, challenges and opportunities to allow more students access to PSE.
Room: Kensington A (2nd floor)
| Session 1C — Forecasting the Future of Work-integrated Learning: How Institutions and Employers Are Adapting to WIL's Changing Landscape
This panel will share perspectives and experiences from institutions and employers on the future of work-integrated learning (WIL). Topics will cover the importance of inclusion in WIL, changing institutional practices due to remote work and broader economic changes. Panelists will offer lessons on how institutions and employers are adjusting WIL to be better prepared for this future, and what the sector may need to consider moving forward.
Room: Kensington B (2nd floor)
| Session 1D — Inclusive Approaches to Engaging with Students: An EDID-informed Roundtable Workshop
PSE students who feel included have improved learning outcomes and report better wellbeing. This roundtable workshop will focus on actions institutional staff can take to help students feel included in learning spaces on campus. Guided by experts in postsecondary equity, diversity, inclusion and decolonization (EDID), attendees will workshop solutions to real-world scenarios in a roundtable format and collaborate to develop solutions from an EDID-informed perspective. The session will conclude with a facilitated debrief and discussion.
Room: Parkdale (3rd floor)
Speakers
Zarreen Brown - Vice President, Education, Students' General Association, Laurentian University
Beverly-Jean Daniel - Associate Professor, School of Child & Youth Care, Toronto Metropolitan University
Celeste Licorish - Manager, Educational Initiatives and Assessment – Access Strategy McMaster University
Gillian Parekh - Associate Professor, Canada Research Chair in Disability Studies in Education, York University
Joseph Pazzano - Director, Equity, Diversity and Inclusion, Fanshawe College
| Session 2A — Student Mental Health and PSE Institutions: Addressing Challenges and Sharing Best Practices
What can PSE institutions do to better support students' mental health? In this moderated discussion, practitioners will discuss prevailing challenges and barriers to mental health for students, as well as opportunities and best practices for supporting student wellbeing in postsecondary settings. Attendees will have the opportunity to engage in discussions with experts and learn from one another.
| Session 2B — Helping International Students Thrive: Perspectives from Healthcare Practitioners, Support Staff and Students
International students face unique mental and physical health challenges as they adjust to living and learning in Ontario. In this panel session, participants will hear from international students, campus healthcare practitioners and student services staff about barriers to wellbeing, available supports and innovative approaches to helping international students thrive.

| Session 2C — Data Rich and Information Poor: How Linked Student Data Can Inform Policy and Decision-making
Information about each Ontario student's educational journey from kindergarten to postsecondary is tracked through the Ontario Education Number (OEN). Other jurisdictions use this type of data to inform decision-making and develop policy interventions to increase student success but in Ontario access to this powerful data set is limited. In this moderated panel discussion, attendees will hear from K-12 and postsecondary researchers about the power and potential of linked student data to help us understand the educational trajectories of Ontario students.
| Session 2D — Mental Health Break: Taking Time to Play, Connect and Reflect
With Universal Design for Learning (UDL) principles in mind, this interactive session will allow multiple means of engaging or disengaging and offer participants the chance to learn about mental health initiatives taking place on campuses. Visit the drop-in stations to chat with others, reflect during quiet time with a puzzle, meet a therapy dog or learn about the potential benefits of a multi-sensory room.

This session is still in development.
Room: Soco Ballroom (3rd floor)
November 3, 2023
Room: Soco Ballroom and Foyer (3rd floor)
Room: Soco Ballroom (3rd floor)
| Session 3A — Strengthening Campus Communities: Showcasing Institutional Inclusion Initiatives
How are PSE institutions building inclusive campus communities? This community café will highlight programs and strategies colleges and universities have implemented to increase inclusion. Attendees will learn about innovative approaches and initiatives and receive practical advice from those who have implemented inclusion-focused initiatives.


Speakers
Rachel Cabunoc - Associate Director, Residence Life, Western University
Anne-Marie Cantin - Manager, Career and Professional Development Centre, Université de Hearst
Tara Connolly - Assistant Director, Research and Development, Accessibility Institute, Carleton University
Jenny Cortez-Cordova - Global Learning Facilitator, Durham College
Laura Gatto - Co-op Coordinator, University of Guelph
Jerri-Lynn Orr - Indigenous Curriculum Specialist, Lakehead University
Lauren Wolman - Manager, Research and Strategic Initiatives, EDI, Centennial College
Tatiana Wugalter - Advisor, Evaluation and Analytics, EDI, Centennial College
| Session 3B — Matching Graduate Skills with Employer Expectations: How PSE Institutions Can Help Students Prepare for the Labour Market
The labour market is in constant flux and PSE institutions want their grads to be prepared for success. In this moderated panel, speakers will discuss the transferrable skills employers are seeking in new graduates. Attendees will learn about the development, articulation and value of transferrable skills in the labour market.
| Session 3C - Spotlight on Universal Design for Learning: Using UDL to Navigate Technological Change
Technological change is happening at an accelerating pace, changing the way we work, learn, and engage with the world. This panel session will explore how institutions can use Universal Design for Learning (UDL), a framework to improve and optimize teaching and learning, to respond to and prepare for technological change. Attendees will learn about strategies for using UDL to embrace technological advancements and create a more accessible and inclusive learning environment for all students.

Speakers
Sharmaine Itwaru - Professor, George Brown College
Mandy Bonisteel - Professor, George Brown College
Ellen Flanagan - Accessibility Consultant, George Brown College
Joanna Friend - Professor and Associate, Teaching and Learning Exchange, George Brown College
Susan Toews (moderator) - Dean, Centre for Preparatory and Liberal Studies, George Brown College
| Session 3D - Destreaming Check-in: Is the Policy Change Achieving Its Equity Goals?
In September 2021, Ontario began destreaming Grade 9 classrooms to promote equitable access to postsecondary for racialized and low-income students, who have historically been encouraged to pursue non-academic pathways in disproportionate numbers. What impact has destreaming had on students' ability to plan for the postsecondary pathway of their choice? In this moderated panel discussion, attendees will hear from school board representatives on implementation progress and strategies for ensuring destreaming is achieving its intended equity goals.
| Afternoon Refreshment Break
Room: Soco Ballroom - Foyer (3rd floor)
| Postsecondary non-completion in Ontario: A research dialogue with SRDC and HEQCO
Postsecondary non-completion — when students enrol in but do not finish their postsecondary program — is often considered a policy problem for government. Non-completion is costly for institutions and government, and students who do not complete their program do not reap the labour market benefits associated with the credential. Historically, data limitations have made it difficult to understand the pathways, characteristics and outcomes for students who enrol in but do not complete a credential. HEQCO and the Social Research and Demonstration Corporation (SRDC) have partnered to develop a more nuanced understanding of non-completion in Ontario using data linked through the Education and Labour Market Longitudinal Platform (ELMLP). SRDC and HEQCO will share findings from this work and discuss key questions including: Should Ontario's PSE sector be concerned about students who enrol in a postsecondary program but do not graduate with their intended credential? Is non-completion an issue in Ontario, and if so, how should it be addressed? Attendees are encouraged to bring their tough questions to this lively and informative session.
Room: Soco Ballroom (3rd floor)
Room: Soco Ballroom (3rd floor)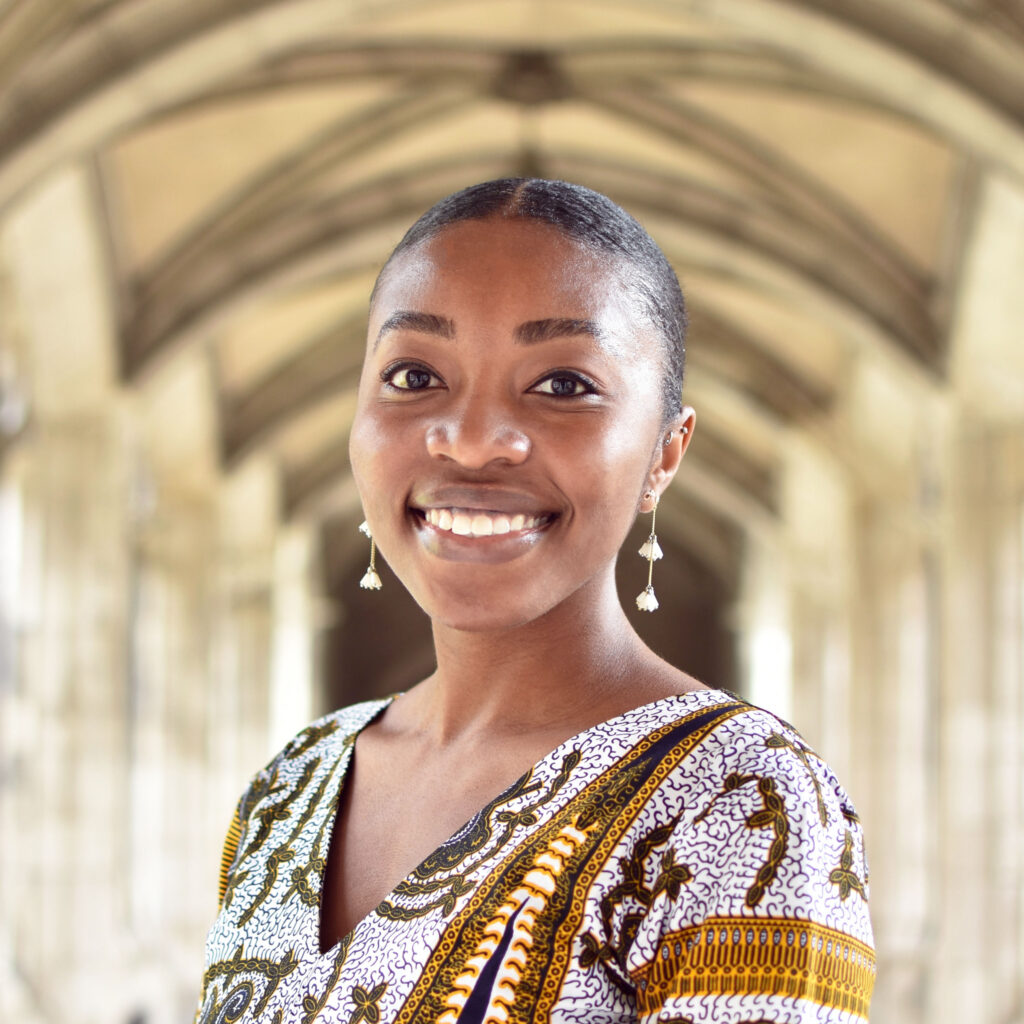 Keynote – Dr. Chika Stacy Oriuwa
One of Time magazine's "2021 Next Generational Leaders", Dr. Chika Stacy Oriuwa is a medical trailblazer spearheading change in healthcare and beyond. She is an accomplished physician, spoken word poet, and advocate for racialized and marginalized populations. Dr. Oriuwa draws on her personal and professional experience to share insight and actionable strategies into transformative leadership, mental health and wellness, and igniting change to build a more equitable future for all.